News
Posted by Barbara Malta on
Unfortunately due to COVID-19, Michael Malta Studio's participation in Art Shows and Festivals has been canceled throughout 2020.  The Studio remains open. Not comfortable coming to visit the studio? Online browsing and purchasing is always open.
Posted by Michael Malta on
Check out the new video...
Posted by Michael Malta on
It's Artwalk time - next Friday night from 5-8 at Boulder Street Gallery. And I'm one of the Featured Artists for the month of June! I hope you'll stop by and visit with us. This will be our last official First Friday together as the Boulder Street Gallery Artists. Our current group of artists will be disbanding at the end of June. The building and business are for sale as the owners are moving soon.
Posted by Barbara Malta on
First Friday is just around the corner. Looking for Valentine's Day present?  Why not artwork.  Want to meet some local artists? Please stop by and say hello or take advantage of the opportunity to ask the artists a question you may have.
Posted by Michael Malta on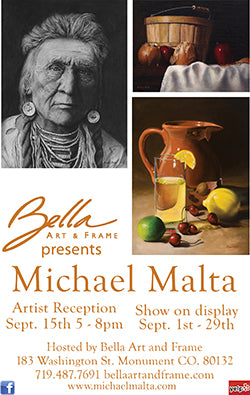 I'm am very excited to be the featured artist at Bella Art and Frame for the month of September this year. A great honor. The artist reception is on September 15th from 5-8. If you are in the area, please stop by and say hi.
---